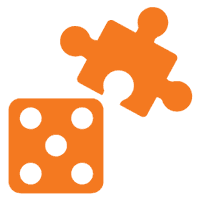 Browse the Contest Games, Fun math games & puzzles
2048 ©

Combine tiles in this number-matching to reach the 2048 tile.

Bomb Defuser ©

Minesweeper game where students must apply logic and recognize patterns to survive.

Calcrostic ©

A crossword-style cryptology game that challenges a student's number sense, logic, and computation skills. From grade 3 level to superhuman difficulty.

Chess ©

This classic improves fluid intelligence, requiring planning, pattern-recognition, and concentration.

Chomp ©

Don't eat the poison candy! You need to think ahead and learn patterns of losing positions to be victorious in this two-player strategy game.

Dots ©

Claim the most squares for your colour to win this strategy game.

Floodfill ©

Colour within the lines to fill the map in as few colours as possible with this test of spatial reasoning. Based on the first theorem to be proven by a computer!

Fruit Salad ©

Visual logic game that utilizes a student's visual-spatial reasoning and memory of patterns of blinds.

GeomeTree ©

Interactive geometry-learning modules in a tree of knowledge where each skill builds upon the last. Full access available for purchase in the online shop.

Hackenbush ©

Plan your moves wisely to stick it to your opponent in this strategy game. The best introduction to combinatorial game theory.

iChomp ©

You've mastered Chomp, but can you win four games at the same time?! Try isotropic Chomp in this impartial combinatorial game.

Induction ©

Build proofs by induction interactively and step-by-step. Our automatic proof-verification system will check it for you!

Knot Colouring ©

Did you ever wonder how to identify a mathematical knot from one of its infinitely many drawings? Colouring the drawing is a first step.

Lights ©

Who turned on the lights? You will, if you can find patterns and plan your moves strategically.

Magic Square ©

Learn tricks to quickly solve this classic math brainteaser fair and square. Or dive deeper to the underlying mathematical principles.

Mastermind ©

Put your logic skills to the test to break the code in this classic puzzle.

Mazes ©

When you learn the properties of these puzzles, you'll be aMAZEd at how quickly you can solve them!

Nim ©

Don't take the last matchstick! Try this ancient mathematical game of strategy which is a good introduction for puzzlers of all ages to the principles shared by all combinatorial games.

Skyscrapers ©

Solve the positions of skyscrapers and you'll be building your spatial reasoning and logic in this fun brainteaser.

Sliding Blocks ©

Help the yellow block escape by carefully planning sequences of moves. From super simple to brain-busting challenges.

Sokoban ©

Move the boxes onto the dots in this test of planning, patterns, and spatial reasoning. If the hard puzzles seem impossible, check the solution!

Spider Web ©

Help the spider spin its web by tracing the pattern given, but be careful: each line can only be travelled along once. Try not to get tangled!

Sudoku ©

Place the digits in this classic logic-based, combinatorial puzzle game. From 4 × 4 to 20 × 20!

Tangram ©

You'll need to think creatively to recreate the forms from the coloured shapes in this ancient puzzle enjoyed around the world.

Towers of Hanoi ©

Move the tower of disks to another post to solve this logic-based puzzle.

Turtle Walk ©

Coding game for all ages where students write an algorithm by stacking blocks of code.

Unknotting ©

Don't go tying yourself into knots to unravel this puzzle! A one-of-a-kind interactive introduction to Knot Theory.
Calcrostic© of the Day
Yesterday's Solution
 14 

×

 128 

=

 1792
  

+

 

×

   

-

 

/

    

-


 98 

×

  16 

=

 1568
  

=

 

=

   

=

 

=

    

=


112 

+

 112 

=

  224

Total number of plays of all games: 14,542,270