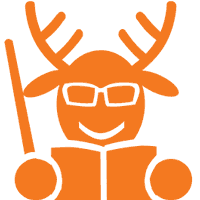 Become a Caribou Coordinator
Do you Caribou Math? Are you an educator who would like to make math more fun for your student(s)?
Make a Caribou Coordinator account, it's free!
Caribou Coordinators are educators who sign up to organize Caribou Contests for their students. Most Caribou Coordinators are teachers, librarians, school administrators, tutors, and homeschooling parents.
The role of the Caribou Coordinator is to ensure that every participating student has a valid Access Code with the necessary credits, help students prepare by passing on important information, and deal with potential contest-day issues. Caribou is self-serve : a Coordinator account gives you all the tools you need to run the contests. To get a better idea of what being a Caribou Coordinator involves, have a look at the Contest Coordinator Instructions, or read on.
Engage your students throughout their schooling
Sign your students up for virtual math content that will keep them consistently engaged in math learning from the beginning of elementary school to the end of high school. Our content caters to all students, from math-averse students to under-stimulated gifted students who are bored to deers.
Math is like a sport – you need constant practice and motivation to get better. The frequency of our contests sets us apart from traditional math contests: there are 6 contests per year, each progressing with the curriculum to keep your child motivated year-round. The math curriculum might change year to year, but Caribou Math is a constant : 6 contest levels to follow your students through elementary school, middle school, and high school.
Try before you Buy
The previous October contest and solutions are free to access. So are the Online Games which are featured on the contests as interactive questions − teachers tell us these make great class warm up activities.
It is a good idea to have students try a previous contest − stronger students may relish the challenge of a higher level!
Instant feedback and results
Your Caribou Coordinator account allows you to see detailed feedback on all of your students' performance in one place. See your students' rankings in their School, School board, province, country, and world!
View your students' success rate by subject and by question to get a feel for their strengths and areas for improvement. When the contest results are released (same day or day after), go over the questions with your students to help them solve those which they did not figure out on their own. If you'd like, you can purchase Written Solutions for the current year's contests to review them on View Solutions, or for past years with the bonus of being able to practice these interactively on Try a Past Contest. You can purchase these for your students, your whole school, or just for your Coordinator account.
Caribou for Schools : The more, the merrier
We like to say math should be treated like a sport, but we know school budgets do not always reflect this. To help schools coax even those students who are not very fawnd of math into participating, we've created School Wide products in our Online Shop − these allow Caribou Coordinators at the school to generate as many valid Access Codes as they need to get all their students in on the fun.
The All-Inclusive School Wide Pass includes contest participation for all students along with access to all of our online math content, including all previous contests for practice as well as their written solutions, mini-courses, and a puzzle book. These can all of course be purchased separately for individual students or for Coordinator accounts, and make for great material for math clubs. Have a look on our Products & Prices page for details.
If the school budget is stretched thin, our Online Shop allows parents to pay for their child's participation or access to other online math content.
What do teachers think about Caribou?
"Thank you for all your group has done to make children feel included, especially during this pandemic. The students really rallied when they realised they could still be a team again and write the contest. It was a great morale booster to us all."

−K, a teacher
"He is very self-directed and the videos are so helpful. He'll just use the higher levels as practice. He eats up everything I give him, but my time in class is so absorbed by students who struggle or work at lower grade levels. Thanks to all of you who work on this contest and its teaching content. For small schools like we are, with few resources, the Caribou is great!"

−C, a teacher
"We are heading towards online schooling and I was hoping to provide something fun and educational! I only picked a small group of students before, but I'll be adding all of my grade 6 and 7 students for sure!"

−A, a teacher
Ready to make your Coordinator account?
Signing up is free and takes about 10 minutes. If you want to know more about the role of Caribou Coordinators, check out the Contest Coordinator Instructions.