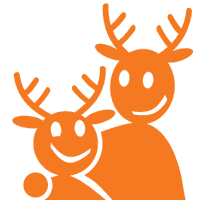 Parents
Help your child love math!
Sign your child up for virtual math content that will keep them consistently engaged in math learning from the beginning of elementary school to the end of high school. Our content caters to all students, from math-averse students to under-stimulated gifted students who are bored to deers.
Math is all fawn and games with Caribou!
Foster a love of math and strong problem-solving skills with our unique puzzles : Caribou's Games page is home to over 20 interactive math and logic games which you can try for free without an account. Public access is limited to 5 minutes, but unlimited practice time is included in contest participation and any purchase made in the Online Shop. Your child just has to sign in with his or her Access Code to unlock limitless learning through play!
Every Caribou Contest features one or two of these games as an Interactive Question. To help students prepare, at the bottom of each interactive game page there is a Food for Thought section which presents the underlying mathematical concepts and winning strategies in an interactive and step-by-step question-and-answer structure.
Mini-courses based on our games are also available:
Our mini-courses are great for self-guided learning: students can progress at their own pace and pick up where they left off. We also sell a Calcrostic Puzzle Book based on the interactive Calcrostic Puzzle.
To get access to all of the above, consider purchasing an all-inclusive package. For more information on these resources, check out the Products & Prices page.
A math contest unlike any other
Math is like a sport – you need constant practice and motivation to get better. The frequency of our contests sets us apart from traditional math contests: there are 6 contests per year, each progressing with the curriculum to keep your child motivated year-round. The math curriculum might change year to year, but Caribou Math is a constant : 6 contest levels to follow your student through elementary school, middle school, and high school.
Try a Caribou Contest for free, no account needed – the previous October contest is free to try on the page Take a Previous Test. All other previous tests are available for purchase in our Online Shop. The October contest is free to try every year. Check our Participation page to see how you can sign up for the next Caribou Contest!
Maybe your child isn't motivated by competition. No problem – access to all of our virtual content can be purchased in our Online Shop without contest participation.
Keep track of your child's learning
Sign in with your child's access code to review the questions they got right, to know where they excel and where they need more help to succeed. Written Solutions are available for purchase in the Online Shop. Each student can see their individual ranking in their school, schoolboard, city, province, country, and the whole world! Download and print certificates of participation and achievement for every contest and for the Caribou Cup.
From the bedroom or the classroom
If your child is participating with school, their Caribou Coordinator (teacher) will organize contest participation and give instructions for participating. In some cases, the school might ask parents to pay the participation fees – in this case, to pay for Contest Participation in the Online Shop, you will need to know your child's Access Code or, if they do not have an Access Code yet, the name of your child's Caribou Coordinator.
If your child's school is not participating, or you are home schooling, you can sign up to participate at home. You can become a Caribou Coordinator yourself, or, to sign up without a school, select "No School" in the Online Shop to register with the Caribou Virtual School. For more specific instructions visit the Participation page.
Stay in the know
Get updates on upcoming contests and new developments: Join our Subscriber List to receive emails about what your child should practice for the next contest, or follow us on Facebook or Twitter. We post the same updates in our homepage News.
What do parents think about Caribou?
"This is our son's 4th year doing the contest. It's his sport. :) Thank you for all that you do and for helping the math kids find their niche."

−D, a Caribou parent
"The game collections are well designed to help develop their problem thinking skills. I have wasted quite some time/money looking for quality math games online. Wish I have found Caribou earlier. Also I was quite impressed by the quality of the contest questions – some of them are really unconventional."

– L, a Caribou parent
"My son, who is now 10, has participated in many of the Math Caribou competitions and through them, has truly developed a love of mathematics. He is eager to participate in them and looks forward to each of the contests with anticipation. In my opinion, it is precisely this type of program that stimulates children's interest in, and love of math and sciences."

– N, a Caribou parent
What do kids think about Caribou?
"It was challenging, but challenging in a good way! It has REALLY improved my grades and I really recommend this test! It helps mold your brain into something! The questions are so well thought into and the fact that they added a point system and pictures, helps to persuade the mind that it shouldn't just give up! I had so much pride when I found out I was doing so well! Even if I don't do well after they show how well I did on the test, it's good that they have SEVERAL tests so you now there is ALWAYS something you could improve on. It's also good that they give you time to practice and allows you to do previous tests as well for pracice!"

−Grade 3/4 Caribou Contestant
"I really enjoyed doing your test! I think it is really cool how I can see how I'm doing compared to almost any other grade 6 in the WORLD!"

− C, grade 5/6 Caribou Contestant
"The contests have definitely contributed to my enthusiasm for problem-solving over the years.I first participated in the Caribou Cup back back in grade five. Every now and then, I would play the games on your site: mostly lights, dots and Towers of Hanoi.I have just completed my final contest - I laughed out loud at the toilet paper question! I had a lot of fun competing in the Cup during my final year of high school…Thank you again for providing students all over the world with the exciting opportunity to write math contests throughout the school year!"

− S, grade 11/12 Caribou Contestant